Trekkin' Too!
Home TOS TNG DS9 VOY ENT Creation Con Diary 2005 Creation Con Diary 2010 Vulkon Con Diary Trek Cetera Trek Sound Files Funny Trek Images by Dave
"La Femme Nikita" LFN Femmes Trek Action Figures Contact
Please report broken/corrupted links here.
The Next Generation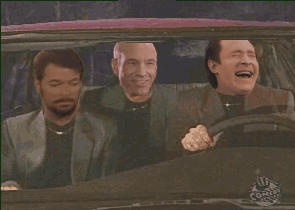 Boy's night out, from Comedy Central!
This web site is in no way associated with Star Trek«, its actors, or any other
affiliations related to the Star Trek« franchise. Star Trek« is a registered
trademark of Paramount Studios« All photos on this page were taken by Natalie
Larkowskię (With the exception of the Creation Entertainment photos, or other photos, which are individually identified), and are not meant to be used elsewhere without expressed permission. 04/20/2008
Please report broken/corrupted links here.
Home TOS TNG DS9 VOY ENT Creation Con Diary 2005 Creation Con Diary 2010 Vulkon Con Diary Trek Cetera Trek Sound Files Funny Trek Images by Dave